Keeping History Alive – Coming Events:
The Association supports events at the sites, and through its contacts with other local historic groups also supports multi-site events and programs that contribute to the understanding of the sites in the larger context of the history of their period.
---
Weekend Journey Through the Past
Saturday, October 14 & Sunday October 15, 2017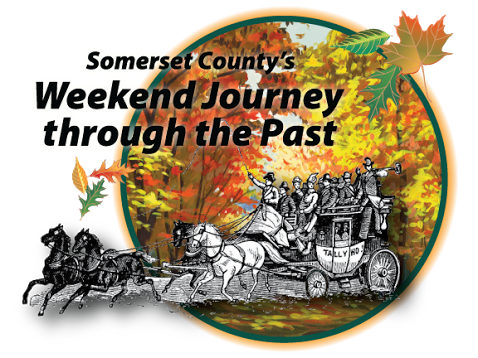 The Somerset County Cultural & Heritage Commission, in collaboration with twenty-nine local historical organizations and tourism partners, has designated the weekend of October 14 & 15, 2017 "Weekend Journey through the Past." During this two-day period, twenty-nine (29) of the County's significant historic sites will be open from 10:00 AM to 5:00 PM on Saturday and 12:00 PM to 4:00 PM on Sunday. For online guidebook, map with suggested tours, and an interactive map with each location, visit: http://www.schistoryweekend.com

Sunday, October 15, 2017, Noon - 4 pm

Wallace House
71 Somerset Street
Somerville, NJ 08876

As part of Somerset County's "Weekend Journey Through the Past", the Wallace House will feature musician, historian and storyteller Robert Mouland performing on period instruments and telling tales of the 18th century.

Admission is free and refreshments will be served. No reservations are required. Call 908-725-1015 for further information.

Funds for this program have been made possible, in part, by the New Jersey State Council on the Arts/Dept. of State, through the State/County Partnership Local Arts Program Grant administered by the Somerset County Cultural & Heritage Commission. Additional support has been provided by the Wallace House and Old Dutch Parsonage Association.
---
The Wallace House and Old Dutch Parsonage Association
P.O. Box 225, Somerville, New Jersey 08876